Benefits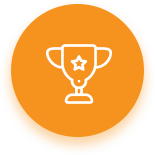 Hundreds of Successful Traders
Automatically copy trades of the most profitable professional traders consistently making a lot of money many months in a row.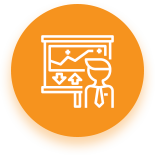 Easy to Use
No knowledge is needed to start following profitable traders and copying their trades.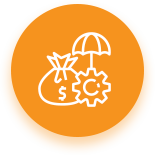 Simple Procedure to Start
1. Open the ECN Copytrade account
2. Choose one or more winning traders to follow
3. Watch the results and profits on your phone or PC
Open ECN Copytrade Account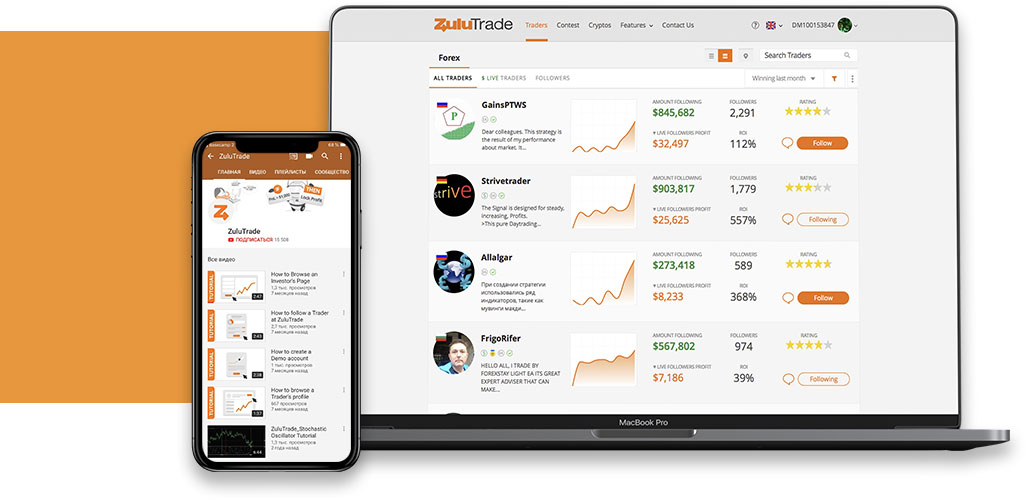 How it works?
Trade simple and easy, generating huge profits of the most experienced traders. See for yourself in the Performance Table which gives you the full profile of each trader that you can compare with other traders.
The overall performance is construed by a range of indicators, including the number of investors following the trader, the total amount of profits gained by those investors in 1 month, the return on investment value and so on. In such a way, you can make a well-considered decision what trader to follow.
Got any more questions?
Watch Jim's story
Join our community of the rich and successful
and start earning profits right away.
What is copy trading?
Copy is a form of automated trading which initially appeared in the world of Forex around 2005. By its nature, it is a platform that enables investors of any level, newbies and financial market veterans, automatic copying of trades made by experienced traders and execution on investors' accounts. As numerous ecosystems started becoming more and more social, copy trading began building up its social elements such as shared commentaries, ratings etc. The role of the social component grows as internet users, including traders, become more and more involved in sharing their opinions and getting feedback to everything they find relevant. In its turn social side of copy trading made it known as social trading.
For the row of obvious reasons copy trading is still on the way to the popularity peak:
simplicity and attraction of its main idea;
steadily increasing internet connection for all types of networks, including mobile networks;
wide spreading of smart phones with high-end possibilities, thus making trading prompt and convenient from any place.
a way to grow interest of ever growing number of newbie traders.
Main features of copy trading
FXCL Markets offers copy trading on the basis of ZuluTrade platform, the account which can be accessed either via browser or a mobile application for Android and iOS.
Web version of the platform itself has several strong sides:
works smoothly with a quick response on loading
contains detailed explanations of all features
prompt notifications on any changes made by the investor.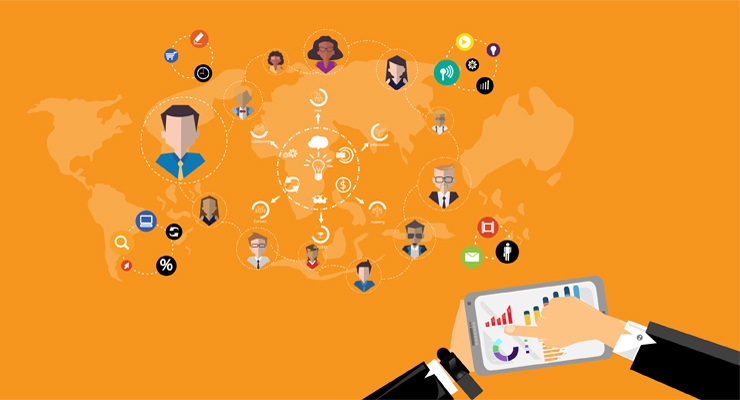 The open account procedure is simple, after which an investor gets to choose traders to follow. $ Live traders section drives attention of investors almost immediately, as there located traders who trade on live accounts with real money. Investors are able to conduct a quick expertise on any signal provider via detailed filters. As well as lists of signal providers can be sorted with existing or custom views.
The profile of each trader (and even of each investor) is available for a precise examination at any given moment by a number of parameters:
Total profit made by a trader
Amount of funds of followers
Period of trader's activity
Number of followers
Return of investment
Profit made by followers with real (live) account
The valued social component of the platform comes to mind after learning the trader's profile. Potentially an investor could change his strategy after getting familiar with ratings and comments about the trader. Thus an impressive number of high ratings and abundance of positive comments secures some traders an advantage if to compare with other traders who share only good statistics, but receive small volumes of feedback.
One of the cool things is that right off the bat you can see a short form of useful insights on the page of the platform such as market sentiment where placed the most popular currency pairs which were the choice of investors for the last several hours.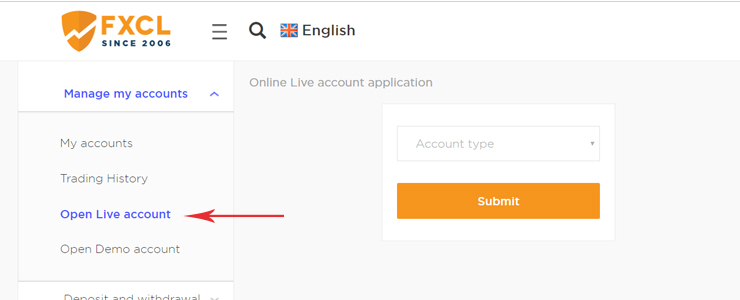 Trading simulation
This tool saves time for the investors who often have a question "What if?" and allows them to learn hypothetical scenarios if they followed a certain trader. The platform feature allows prompt simulations of several signal providers at once. What is convenient that an investor can apply different settings for each trader in simulation.
Traders combos
A convenient instrument for those whose top priority is an automated trading at its best. Platform constantly tracks the most successful signal providers according to its algorithms.
Investor in his turn follows a combination of successful traders.
Set an amount to invest
Choose risk level
Select a Combo of traders
Capital and trades protection
Besides regular risk management features the platform offers a quite unique safety instrument - ZuluGuard. The instrument is really easy-to-use and operates even when an investor is offline.
It takes action on several levels:
Protection of capital
Trade protection
Maximum number of opened trades protection
Each of levels enables a set of actions which investor can select in case the trigger of the guard system goes off. Basically, the safety system allows you to apply all the required parameters within several clicks.
Among other features investors can find pretty standard and at the same time adding convenience to trading - calendar and calculator. Here again the social aspect is well represented with social charts and forum.
How to become an investor?
As fundamentally the idea of copy trading is easy, the main steps for the investor on the road to financial success are also simple:
Open ECN Copytrade account
Make a deposit
Study profiles of successful traders
Gain profit by following selected traders
Open ECN Copytrade account
Only a few short moments will take you to register a cabinet and open a live ECN Copytrade account. The detailed terms of the account can be found here. More than competitive spreads is the part of the reason why traders in the English-speaking countries choose FXCL Markets for 12 years in a row among other brokers. The tradition of lucrative spread values is carried on the ECN Copytrade account. As the process of copy trading is completely automated, the investor has no necessity to ever login to his metatrader 4 account.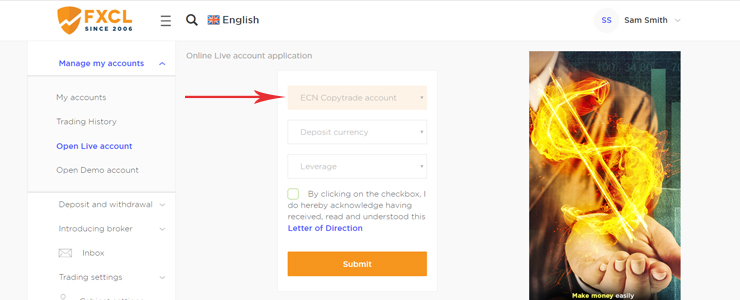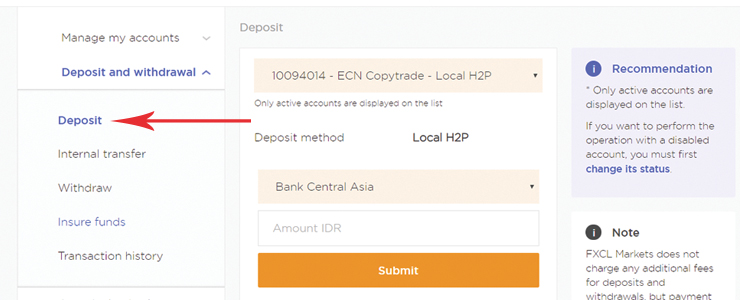 First deposit
The minimum required deposit for ECN Copytrade live account is $150, although for the comfortable start of copying trades it is recommended to fund your account at least with $300. Although, as an investor you should remember to learn the details of signal providers' profiles in order to build a strategy and measure the amount of the investment.
Login details to platform
After the deposit is processed the investor receives an email with details in order to obtain access to copy trading platform.

Login details are to be used to log in to both versions of the platform:
a) web - https://fxcl.zulutrade.com
b) mobile application. Download it for Android or iOS.
Make profit
Pay attention to the platform settings after a successful login. Define one or several prosperous traders to follow and control the process of gaining of your investment.
The popularity of copy and social trading will continue its growth as the number of investors increases month after month. The last is quite logical as the army of financial achievers who involve in investing with online means enlarges constantly. The need to manually open a trade is something you can forget with copy trading. The "follow" button in the platform is the answer to the question "How to trade?".
Know quite a simple thing - you have all that it takes to become a successful investor - good internet connection and controlled by you amount of time to multiply your money.