Copy Trading for Followers
Make money on investing into social trading
Copy trades of experienced Signal Providers
and gain profits on their success.
Start now
Fully automated system -
Quick automated execution of trading signals
No trading experience required -
Perfect for novice traders with lack of experience

Advanced risk control -
Multifunctional software grants easy control of your risks

No minimum deposit -
Copy trades with as low investment size as you want
Various compensation types -
Pay fixed amount per lot or percentage from profit
How to Start
In order to become a Follower and join our copy trading network, follow the steps below:
Open and fund an ECN Copy Pro account in your Cabinet
Download and install the FXCL Trading Copier software
Login as a Follower to Copy Trading program
Choose a preferable Signal Provider right in the program and click "Follow"
Automatically copy the Provider's trades to grow your investment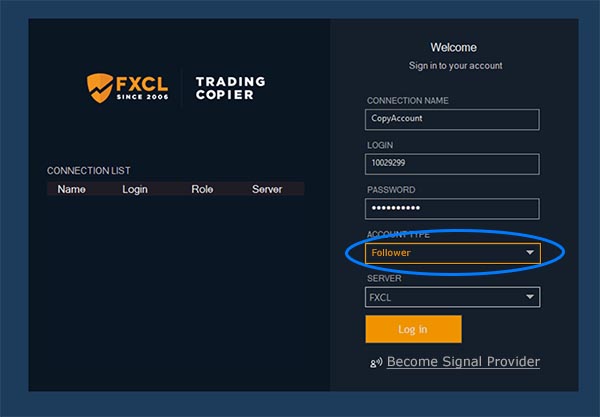 Compensation Types
Each Signal Provider has an individual commission type and size on their accounts.
Fixed per lot -
You pay fixed amount in US dollars per lot for every trade you copy

Fixed per Profit/Loss lot -
You pay different fixed amounts for profitable and losing trades

Shared -You send up to 50% of profits made from the copied trades to the Signal Provider
Fixed commission is paid on a daily basis during a rollover. Share commission is paid daily, weekly or monthly, according to Provider's choice.
Not an FXCL client yet? Register now to become a Follower and start investing.
Register